Shafts with a silicone coating are primarily designed for use in environments with high temperatures.


One of the specific properties of the silicone surface is the absence of stickiness, which is successfully used, for example, applying some adhesive grades, etc. N.


We also offer a combination of EPDM mixture - silicone, ie mixtures of high temperature resistant (silicon component) and excellent resistance to mechanical loads (EPDM component).


Shaft Types:
- laminators
- Koronowo shafts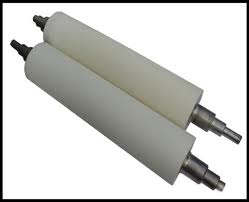 - Rolling rolls
- Pinch valy
Types of sleeves:
- printed
- varnishing
- Rolling
The hardness of the product - 30 - 90 Sh A
It has a high resistance to temperatures up to 250 ° C
Very good resistance to ozone.